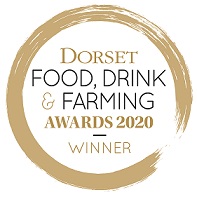 We're delighted to announce that we have won the Dorset Magazine Food and Farming 2020 Business Collaboration Award with Furleigh Estates for the Bacchus and Asparagus Gift Pack.
With the originally planned Bacchus and Asparagus Evening, scheduled for St George's Day which is traditionally the start of the asparagus season, cancelled due to Covid 19 restrictions, discussions took place as to how something could be done to promote these two wonderful Dorset products.
The idea of a Gift Pack incorporating both wine and asparagus was suggested and much organising took place to set the wheels in motion. With the picking, sorting and delivery of the asparagus to Furleigh undertaken by us, and the order taking, packing, admin and shipping organised by Rebecca at Furleigh, twice a week for 7 weeks these two award winning products were shipped throughout the UK, to asparagus and wine lovers- a real treat during Lockdown 1.
We're therefore delighted that the teams' efforts have been rewarded with this award.