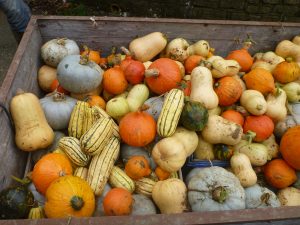 We're delighted to say that, probably as a result of the exceptionally hot summer we've experienced, that we have the most fantastic crop of squash. Great for roasting and making soup, the Crown Princes are now coming to the fore and are absolutely delicious.
Please e mail your order to us by Thursday evening, This week's list is as follows:-
Beetroot –  sweet and full of flavour

Cabbage – round winter

Carrots – sweet and juicy

Kale – red and green

Leeks – sweet and delicious

Nero – beautiful colour and full of flavour

Parsnip – excellent roasted or in soup

Potatoes -White good all rounders

Purple Sprouting – Delicious!

Onions – white – small but flavoursome

Salad Bags – some spicy, some not

Spinach – still going strong

Sprouts  – just a few left

Squash – Crown Prince only, kept the best till last!