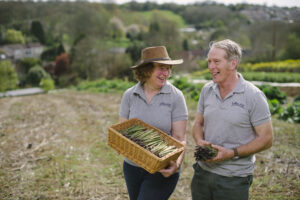 We established our business at Bothen Hill in 2001, are registered with the Soil Association and we grow in excess of 150 types and varieties of vegetables on approximately 15 acres in West Dorset. These are available from the Farm Gate on a Friday, we're open from 9.00 until noon. There's plenty of room for social distancing and also for parking. If you can't get here on a friday morning, we are happy to make up an order for collection on Friday/Saturday. Please either e mail bothenhill@hotmail.co.uk or call us on 01308 424271 to place an order. Orders must be received by Wednesday noon for collection that week. You can also buy some of our produce through Modbury Farm at Burton Bradstock, Fruits of the Earth in Bridport and Fruit & 2 Veg in Beaminster. Our asparagus is also available at Washingpool Farm Shop in Bridport.
The acreage and management of the farm ensures a continuous supply of vegetables throughout the year and also ensures that a rotation system is followed. This ensures that the land is regularly rested and revitalised using not only natural but also green manures, and that no crop is grown in the same place in subsequent years.
Due to the close proximity of the sea the season normally starts early with asparagus in April followed by new potatoes and carrots and the full range of seasonal vegetables. However, last year, 2021, things were very different – we had a significant number of late frosts in April and May which resulted in poor asparagus yields. Additionally whilst we did our best to combat these, we have had a number of crop failures and everything is much later than usual.  We can't hurry nature, it just has to take its time.  However, we're now fully up and running once again.