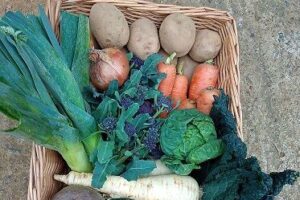 We are West Dorset's largest organic vegetable grower with over 150 different varieties grown on more than 15 acres – the farm is 45 acres in total.
Produce is available all the year round, starting with asparagus, early carrots and new potatoes and moving on to summer vegetables – peas, beans, spinach, beetroot to name but a few, with salads, lettuces and leaves, tomatoes and cucumbers following. Autumn brings a wide range of squash together with numerous cabbages, cauliflowers and other brassicas and also root vegetables for the winter.
Our produce is available directly from us at the farm gate on a Friday morning until noon. If you can't get here then, we can make up an order for collection on either Friday or Saturday. Please either mail us at bothenhill@hotmail.co.uk or phone 01308 424271 by Wednesday 12.00 noon for collection on either Friday or Saturday. We also supply local outlets, Modbury Farm at Burton Bradstock, Fruits of the Earth in Bridport and Fruit and 2 Veg in Beaminster. During the asparagus season we also supply Washingpool Farm in Bridport.