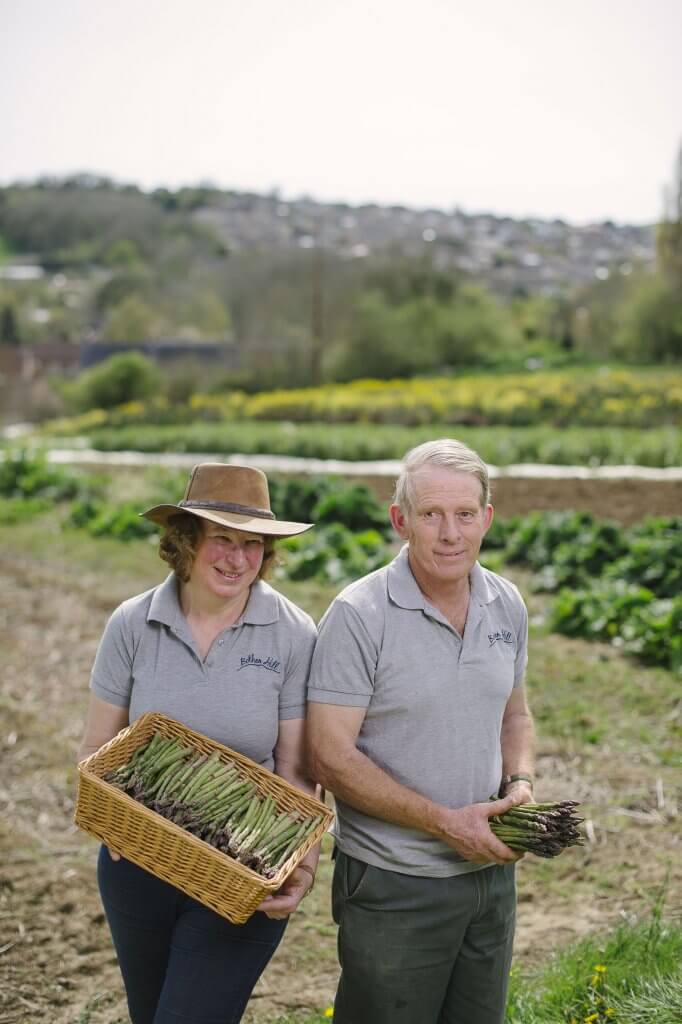 Asparagus has been a family favourite for very many years. Originally there was an asparagus bed planted by Anita's grandparents in the late 1960's in their 'Kitchen Garden' which now forms part of our raising beds. This was tended faithfully by their Gardner, John, who always maintained that "it should be weeded as little as possible to ensure that the crowns were not disturbed"! There must have been something in his theory because the bed outlived both grandparents and John as well and always produced amazing spears during the season. John, like Chip, also maintained that the fronds of asparagus should not be cut down until they had properly died back, despite the grandparents' protests.
We started growing asparagus on a field scale in 2005, beginning with around 200 crowns. We used a variety called Jersey Knight and planted the crowns, as instructed some 2 feet apart. Whilst it was initially an experiment, the results were amazing and, after 3 years when it was ready to harvest, it was producing large, juicy spears. Far too much for the family to eat, so it was offered to our customers and just vanished as soon as it was harvested.
Clearly, we'd hit a winner and so decided to invest significantly in more crowns. By this time there was a far greater choice of variety, and we carefully planned our purchases We chose early and mid-season varieties, like Ariane which is the most attractive, with the purple in the tips. We also grow Millennium, which is technically a late variety although it comes out early here. This has been achieved by also growing at a site about four miles north to extend our season.
The crowns are now also planted significantly closer together, having investigated the market it was clear that there was a move towards thinner spears and, with 3 years between planting the crowns and harvesting, it's was necessary to plant to ensure that the end product would be marketable. Being situated so near to the south coast means we can normally harvest early in the UK season, we aim to start harvesting early in April and have sufficient to fully supply our local customers by the start of the season on St George's Day. However, it doesn't always happen, some years it has been either too wet or too cold and things just haven't worked out, but that's nature, and farming!
As the demand for asparagus continued to grow, we realised that we needed to expand our beds and now have around five acres of asparagus, which equates to around 40,000 crowns. Certainly the demand for the product has inreased over the years, one of the reasons being that that it's received more media attention with celebrity chefs who are using it as a product. Larger producers are also putting more money behind promoting asparagus, which obviously helps smaller producers like ourselves.
Once the season is underway, tending and harvesting the asparagus is an intensive job. The asparagus is picked, sorted and bunched by hand to ensure maximum freshness and flavour, and then chilled prior to delivery or sale. We feel it very important to market our produce locally, and we have a lot of very loyal customers to whom we're extremely grateful. Apart from selling directly ourselves, both at the farm gate and at the street market in Bridport, we also supply local farm and whole food shops.
In 2017 we took the large step of entering our asparagus in the Soil Association BOOM (Best of Organic Markets) Awards and were absolutely thrilled to be awarded a runner-up Certificate in the Best Fresh Produce Category; the awards are held bi-annually, so with another one scheduled for this year perhaps we'll be fortunate enough to be off to London again!